Speckled Granite Resin Fountain – $1,950 
• 46.5″ diameter x 17″ high finished exterior
• Center mounted nozzle surrounded by a ring of white LEDs, with triple tier and bubble attachments,
• 12 motorized swiveling side nozzles with built in white LED lights,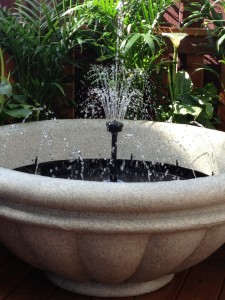 • 560-620 GPH submersible pond pump
• Choreographed control programs for listed music
• 25 songs (classical or real oldies, prior to 1920's)
• App program (downloaded from App store or emailed)
• One year warranty
Above system assumes purchaser uses their own Windows PC with Bluetooth, Android-based tablet (Bluetooth capable), or iPhone, iPad, iTouch & iPad mini (which has Bluetooth). The App can be downloaded from the Apple App. Store, Google App web site, or via email from Magical Water Fountains, LLC. The premium songs can be purchased from iTunes store, Amazon.com, or other music sites. Just add water to the system, plug the unit in, and begin using the App. The App will control the fountains flow, nozzle motion, and lights to the music. The music is played through the tablet speakers. Adding a Bluetooth speaker with enhance the musical experience. Options: Android tablet, iPad mini, Bluetooth audio system, and splash screen.